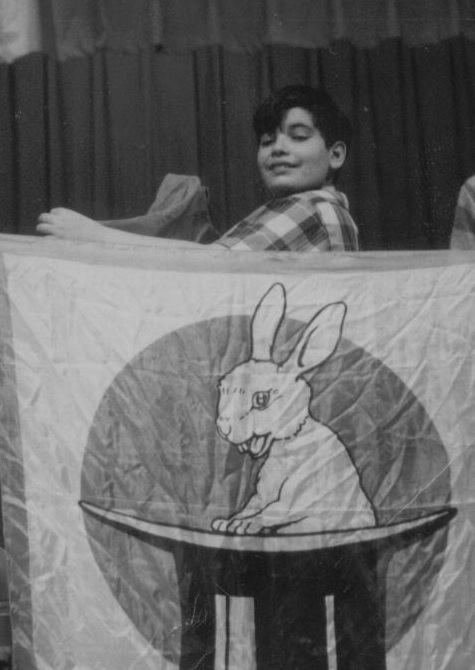 A biography
I filled this with all sorts of facts to help out anyone who might be doing a book report or other school project. If you need information on how I write my books, check out these
questions and answers
. If you still can't find enough about me, I'd suggest you switch to Roald Dahl. There's a ton of stuff about him on the web.
I'd much rather write about aliens, werewolves, or hungry carnival monsters than about myself. But I know that when kids write a book report, they need biographical information, so I'm going to fill this page with all sorts of stuff. It's up to you to take what you read and turn it into a great paper.
Assuming you are reading this before March of 2016, I'm 61. Otherwise, I'm older. I was born and raised in Morristown, NJ. It was a great place to grow up. I could walk into town, and also walk to some really nice parks. My mother was a school librarian, so I spent lots of time in the library when I was a kid (mostly because my teachers kept kicking me out of class for talking too much). Beside the school library, there was a town library and a county library. They were all great places to find books.
I've also lived in New Brunswick, Edison and Piscataway, NJ, and Sacramento, CA. For the last 18 years, I've lived in Pennsylvania, but I've stayed close enough to the NJ border than I can sneak across any time I want for a pizza, a hard roll, or any of the other great food I grew up with. I've been married since 1977. I have a daughter, Alison, who's a teacher, and several cats. I had a goldfish who lived for nearly seven years and grew to monstrous proportions.
After going to college at Rutgers, where I got a degree in Philosophy (and played guitar in a bluegrass band), I tried writing for a living. I collected about 100 rejections before I sold anything. The first year I earned any money, I made a whopping $8. I made a bit more the next year, but it still wasn't enough to live on unless I wanted to survive on tree bark and rainwater, so I looked for a job. I worked as an editor for Creative Computing Magazine, starting in 1980. Two years later, I was offered a job designing and programming video games for a company in California. I got to meet (and even work with) a lot of the pioneers of home computing and video games.
I spent many years designing and programming games for various companies. My games include Home Alone for the GameBoy, and Fantastic Voyage and River Raid II for the Atari 2600. I worked as a translator on one version of Carmen Sandiego, two versions of Shanghai, and two versions of Ultima. (A translator takes a game from one system and makes a version that works on another system.)
In 1994, I decided I really wanted to get back to writing. I spent all my spare time writing and reading. I started selling more stories, and I worked on a couple of books. In 1995, I had the fabulous luck to sell six books. That same year, the game company I worked for went out of business. (Interestingly enough, most of the companies I've worked for have gone out of business, though I don't take it personally.)
My writing got sidetracked again for a while during 1998 and 1999, when I did a whole bunch of video game work. I designed and programmed Frogger 2 for the GameBoy. I also programmed the GameBoy versions of Frogger and Super Breakout.
But, believe it or not, I'd rather write books than games. I especially like to write stories that are scary, strange, or funny. I also write humor articles for magazines. And I just started writing a humor column for VOYA, a magazine about YA books. Some day, I'd like to write a movie or a cartoon show. The most important thing I can say about writing is that I really enjoy it. I get to create whole worlds, and those worlds can be as weird or strange or magical as I want.
Beside my books, I also have short stories in several collections. In 2000, I had stories in Ribbiting Tales, which is a collection of stories about frogs that was edited by Nancy Springer, and in Lost and Found, a collection edited by M. Jerry Weiss and Helen Weiss. In 2002, I had a story in a collection called Shattered, edited by Jennifer Armstrong. It's a very different story for me. It's not scary or funny. But I think it's one of the best things I've ever written. In 2003 I had the honor of appearing in one of Don Gallo's collections. For serious story writers (not to be confused with writers of serious stories), this is the Holy Grail of anthologies. I'll also have stories in Don's anthologies for 2004 and 2005.
I've had a chance to speak at tons of writing and reading conferences. That's a lot of fun. I've traveled to places like Nashville, New Orleans, San Francisco, and Hershey. But, to tell the truth, I'm just as happy to stay home where I can play with my cats and write books.
Well, I hope that gives you enough information for your book report. Sorry if it's a bit disorganized. I'll try to add more stuff to the web site when I get a chance.
Go back to the TOP
Questions and Answers
How many books have you written?
Written or sold? I've written dozens. My closet and hard drive bulge with manuscripts. On the other hand, I've published about twenty. Writing is like anything else—the more you practice, the better you get. The first five or six novels I wrote might never get published, but that doesn't mean I wasted my time. The more I write, the better I get.
Where do you work?
I have an office in my house. Working at home can be tough, because it's easy to goof off or go raid the refrigerator. (I do that so much, the 'fridge trembles when it sees me coming.) My office is a little messy at the moment. It will be messy later on, too.
Do you use a computer?
I write on a computer. After I finish my first draft, I print out a copy so I can mark changes on it by hand. Editing on paper feels different from editing on a computer, so I like to do both. I put the changes into the computer file, then keep revising until I'm happy with the whole book. By the time I'm finished, I will probably have gone over the whole book at least eight or ten times. I don't mind—revision is my favorite part of writing.
What's the first thing you ever sold?
I sold a joke to a place that buys jokes and then sells them to comedians. I made 75 cents. I still have the check. I keep it in my bathroom. After that, I sold some magazine articles, and then started selling short stories.
How much money do you make?
People never ask their doctor or their neighborhood cop this question, but writers are asked this all the time. But since you asked, I'll reveal everything. Writers get paid a royalty. This is a percentage of the price of the book. For paperbacks, a typical royalty is 6 or 8 percent of the cover price. For hardcovers, it's ten percent. So every time you buy one of my paperback books, I earn about enough to buy a postage stamp. (If you buy the book from a book club or book fair, I earn less, so I have to settle for a post card.) The more copies a book sells, the more I make. Some of this is paid ahead of time. That's called an

advance.

I earn extra money if a foreign publisher buys the rights to print the book in another language. I'll earn a lot of money as soon as a major studio realizes what a great movie one of my books would make.
Do you do your own art work?
I wish I could, but I have no talent in that area.
So who does your book covers?
My publisher picks the cover artists. I've had great luck so far, including covers by Greg Swearingen, Bill Mayer (who does those awesome Weenies), Glin Dibley, and Chris Sheban, as well as a story illustrated by the amazing Tony DiTerlizzi. A guy couldn't ask for better artists.
How long does it take you to write a book?
That varies a lot. A first draft usually takes a month or two. But I do a lot of revising. I once wrote most of a book in four days. I'd gotten the idea for the Accidental Monsters series a week or two before Thanksgiving. I was working at the time, so I decided to wait for the four-day holiday before getting started. While I waited, I began thinking about the first book, The Vanishing Vampire. I began to write the opening paragraph in my head, and I let the whole concept of the book bubble and perk in my brain until Thanksgiving. Then I sat down, and it all started pouring out. I wrote 5,000 words (about a quarter of the book) the first day, and had the book nearly finished by Sunday. But I spent weeks revising and polishing it. On the other hand, I have some books I've dabbled with over a period of years.
What's your favorite book?
I have to put Katherine Paterson's classic,

A Bridge to Terabithia

, at the top of the list. I've read it over and over. There are too many wonderful books to list, but among my favorites, I'd have to include

Ender's Game, Matilda

,

A Summer to Die

,

Dragonwings

,

Jennifer Murdley's Toad

,

The Boy on the Black Horse

,

Cannery Row

,

To Kill a Mockingbird,

and

Bunnicula

. I also really like short story collections. Chris Crutcher's

Athletic Shorts

is great. The movie

Angus

is based on one of the stories in that book. And I love funny picture books like

Cloudy with a Chance of Meatballs.

As a kid, I loved the

Freddy the Pig

series by Walter Brooks. Freddy wrote poems and solved mysteries. Not bad for a piece of walking bacon.
Who are your favorite authors?
Again, a long list, presented in random order. Katherine Paterson, Robert McCammon, Orson Scott Card, Roald Dahl, John Steinbeck, Robert Parker, Donald Westlake, Stephen King, Nancy Springer, Bruce Coville, Lois Lowry, C. S. Lewis, Calvin Trillin, and many, many others.
Did you always want to be a writer?
When I was a kid, I wanted to be a comedy writer. I got that idea from watching the Dick Van Dyke show. I thought he had the coolest job in the world. Then I wanted to be a stand-up comic. I probably got that idea from television, too. Recently, I've sort of had a chance to do comedy since writers get asked to give a lot of talks. I try to make my talks fun. I figure there are already enough people out there sharing serious information. Beside watching a lot of television, I played a lot of pinball. Naturally, I wanted to be a pinball machine designer. I never got to design any pinball machines, but I did get to write a pinball game for the Atari 2600.
Do you have any hobbies?
Some people call reading a hobby. I think of it more as an essential part of life, like eating or breathing. But I definitely spend a lot of time reading. Other than that, my hobbies keep changing. I'll get interested in something for a couple years, get totally absorbed and fanatic about it, and then move on to something else. (Though some interests have stayed with me through the years, such as playing the guitar.) When I was a kid, I was into magic. Then I got involved in martial arts. I earned a black belt in Isshin Ryu karate (an Okinawan style) when I was 18, but dropped out a couple years later. I wish I'd stuck with it. I've also been absorbed by fishing, brewing, pool playing, and programming. That last hobby turned into a career. You never know where your interests will lead you.
Why do you write scary books?
I loved monsters when I was a kid. I watched horror movies and read monster magazines such as

Famous Monsters of Filmland

and

Monster World.

I also read spooky comics book like

Creepy.

I guess they made an impression on me. But I don't just write scary stories. I also write funny stuff. I think both types of books let you use your imagination. My scariest story, "Collared," and my funniest, "At the Wrist," happen to be in the same collection (

In the Land of the Lawn Weenies and Other Misadventures

). But horror is really only a small part of what I write. My books range from fantasy to real life.
Do you get to pick your own titles?
For the most part. But sometimes things get changed. I'd originally called my Scholastic series

Momentary Monsters

and called the first book

The Accidental Vampire

. The other three books were called

The Unwilling Witch, The World's Smartest Werewolf,

and

Ghost Rory

. They changed everything except for

The Unwilling Witch

. I liked my titles better, but that's natural. Some of you may know that

Harry Potter and the Sorceror's Stone

was originally published in England as

Harry Potter and the Philospher's Stone

. "Philosopher's stone" is the actual term for the item in the book, but I guess the publisher felt it wasn't exciting enough.
Do you know any famous writers?
I've met many writers. Some are good friends. Others might think, "This guy looks familiar," but not really know where we've met before. I also know some excellent artists. When I was designing video games, I worked with Marshall Rogers. He's one of the comic artists who drew Batman. I also worked with Glen Schofield. He later did artwork for Gex 2 and lots of other games, and I believe he recently produced the second Lord of the Rings game for Electronic Arts. I'm sure some of the kids I meet at schools will go on to do amazing things and become very famous.
Will you come visit my school?
I do come to schools, but this takes a lot of planning. The school has to get in touch with me ahead of time to find a good day for me to come. If the school is far away, we also have to plan for travel. I like visiting schools and meeting kids. I think it's important for writers to realize that there are real people out there reading and reacting to their books.