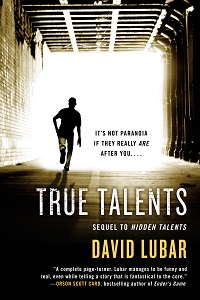 A sequel to
Hidden Talents
When their secret gets out and the bad guys close in, Trash, Martin, Flinch, and the rest of the gang find themselves in a fight for survival against a brutal enemy. An action-packed adventure where things blow up, people die, and Torchie buys an accordion.

Read the first chapter.
Watch the promotional video.
Lubar's trademark blend of humor and suspense, complete with explosions, supernatural powers, and just enough gore, will be a hit. The book may be an entertaining sequel, but it also stands nicely on its own. — Heather Booth, Booklist
With its tumbling action sequences, interesting moral dilemmas, and clever tie-ins to technology and corporate wrongdoing, this book is a winner. — Katie Haegele, The Philadelphia Inquirer
True Talents is exactly the book you give to boys who are usually reluctant to read anything. But it's also a terrific book for anybody who loves a terrific adventure story—including at least one adult (if we count me as an adult). Lubar manages to be both funny and real, even while telling a story that is fantastical to the core.— Orson Scott Card
The characters have both depth and sparkle, and the author deftly juggles the ensemble of five funny, thoughtful, distinct boys.— Johanna Lewis, School Library Journal
True Talents certainly reflects the incredible skills of the author whose new book is sure to win rave reviews from YA readers and their teachers and librarians. — Teri Lesesne
Part thriller, part fantasy, the story is fresh and smart, and it does a remarkable job of capturing the many facets of teenage life, while constantly raising the stakes to keep readers on edge." — Sarah Todd, Children's Book World, Haverford, PA, in Book Sense
<! end of footer>