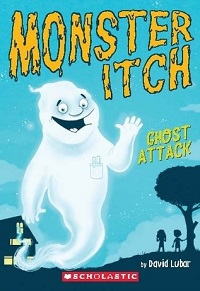 A lightly spooky new series, nominated for Florida's Sunshine State Young Reader Award.
Ghost Attack
, the first book in the Monster Itch series, has been widely praised for its gentle mix of horror and humor. When Alex visits his grandparents in their new house, he breaks out in a hideous, painful rash. The house is haunted, and Alex is allergic to ghosts! Making matters worse, the ghost won't leave Alex alone. It wants Alex to solve a mystery. Alex just wants to stop itching. But he has no choice. Every time the ghost comes close, the rash gets worse. So Alex and his cousin Sarah use all their wit, wisdom, and skill to uncover the truth behind the local legends.
Lubar's ability to blend kid-friendly horror with goofy situations works wonderfully. School Library Journal
Available at bookstores nationwide, and from all major ebook vendors.


<! end of footer>