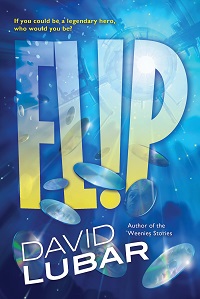 A VOYA Best-of-the-Year Selection

Ryan and Taylor are twins. But they have nothing in common. Ryan fails at everything he tries. Taylor tries to be perfect. Then Ryan stumbles across alien disks that let him change into legendary figures. Suddenly, both their lives start to change in unexpected ways. A whopping romp of a novel, told from five viewpoints, with a cast of daring heroes, evil villains, and perhaps a geeky kid or two.
A New York Public Library "Best Books for the Teen-Age" selection.
"A multi-level tale, well told." Publisher's Weekly

"Lubar's story is an engaging blend of fantasy and teen life, humor and heart." Children's Literature
"A crowd-pleasing page-turner that will leave readers flipped by the satisfying end." The Barnes and Noble Review
Flip through the start of the story.