Named one of the best YA novels of 2016 by School Library Journal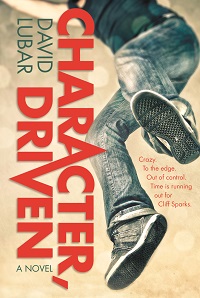 I've written thirty-five books.
Character, Driven

is the best, so far. But don't take my word for it...

"The brainiest, funniest, most heartbreaking, romantic, mind-bending, violent, inappropriate, spot-on, sensitive, insensitive, diverse, offensive, compelling, baffling, irresistible, inspiring YA novel I've ever read. Lubar's 'loser' hero Cliff breaks rules and wins big." Cynthia Leitich Smith, NY Times best-selling author of Tantalize

A fascinating and inspired novel for sophisticated readers. School Library Journal, starred review.

Filled with wordplay and moments of wry observation and revelation, this contemporary coming-of-age-novel follows the trials of a big-hearted teen who suffers some hard knocks. Publisher's Weekly, starred review.

Readers will giggle and guffaw at Lubar's trademark humor, while their heartstrings are tugged and feelings are tied in knots. This exquisitely crafted coming-of-age novel gets down and dirty—and even rebellious—without sacrificing honesty, thoughtfulness, or respect. Jeanne E. Fredriksen, Booklist, starred reivew.

"It's a tremendous novel; funny, heartbreaking, honest as all hell and perched in perfect balance between hope and pain. In Cliff Sparks we have a character who overcomes the very worst situation imaginable with courage, humor and honesty. You root for Cliff and Jillian and a big cast of believable, nuanced and well-crafted characters. I love this novel and feel honored and delighted to have been given the chance to read it. Lubar is at the top of his game here, a writer's writer using his remarkable talent to tell a story of extraordinary importance." Terry Trueman, Printz Honor author of Stuck in Neutral
Available at bookstores nationwide, and from all major ebook vendors.


<! end of footer>