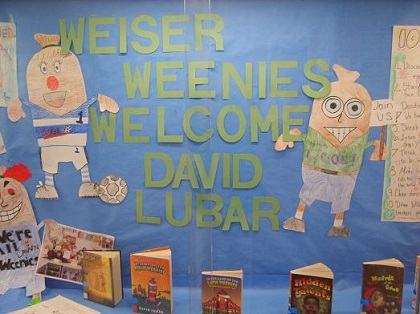 What I do
My presentation answers the one question everybody asks: "Where do you get your ideas?" I show students the various techniques I use, and let them try their hand at short writing exercises. It's an interactive, energetic workshop that leaves kids eager to do more writing on their own. I believe that author visits should inspire the students to read and write, and to explore their own creative potential, whatever form that might take.

Designed for grades two through twelve, a typical session runs about 45 minutes, but I can modify the presentation to fit your schedule. I generally work with three or four classes at a time, preferably from the same grade level. I've worked with groups as large as 900 and as small as six students. (The larger sessions do tend to get chaotic, but so far there haven't been any casualties during my author visits. I can't vouch for what happens after I leave.) I'll give up to three presentations during a visit, and spend several more periods doing informal classroom visits. If the students are working on a writing project, I'll be happy to peek over their shoulders and share some advice. I'm also happy to have lunch with students and/or teachers.

Since the release of my early chapter-book series from Scholastic, I've expanded my presentation to now offer a short assembly program (without the interactive writing component) for students in kindergarten and first grade.
What I Need from You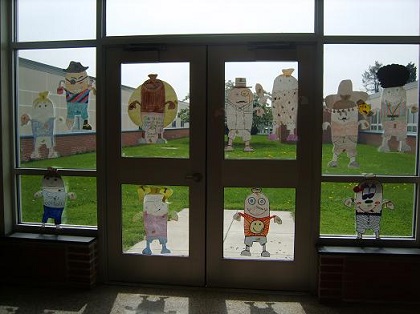 A roomful of students armed with pencils and paper (or a couple file cards). They can sit at desks or on the floor, as long as they have some hard surface for writing. (If the situation in your school, or the energy level of your students, makes an interactive session impractical, I can do a standard presentation without having the students participate in the writing portion.)
An LCD projector, extension cord, and screen or blank wall. In a pinch, a human pyramid of kids wearing white t-shirts will do the trick.

A microphone—preferably hand-held (either corded or wireless) with a mike stand.

An advance look at the schedule for the day. (It isn't fun for anyone if I arrive at a school to discover I'm scheduled for seven assemblies instead of three.)
PLEASE NOTE—I strongly recommend that the students read one of my books before a school visit. While this isn't mandatory, I feel that the kids will get a lot more out of the day if they know who I am.
Where I'll Go
Local visits.
I live in Northampton County in eastern PA. I'm within easy driving distance of Lehigh County and Bucks County and am happy to do one-day visits to schools in those areas, as well as Monroe County and Carbon County. I'm also just across the river from Warren County, NJ, and not too far from Morris County. Basically, the central portion of eastern Pennsylvania and western and north-central New Jersey are within range. I also have a base of operations in Camden County, NJ. If you aren't sure whether I'm close enough to your school for a day trip, just put Nazareth into a mapping program and see how long the drive is. And please don't hesitate to get in touch if you aren't sure.
Longer Drives
Farther out, beyond a two-hour drive, I'd need overnight accommodations, and a minimum booking of two days. (This can be two different schools in the same area or two days worth of visits at one school.) I'm hoping to keep long or unpleasant drives to a minimum this time. (Translation—if you want me to come to a school on the Rt. 95 corridor in Connecticut or in downtown Baltimore, see below.)
Out of State Trips
I do out-of-state author visits, with a two-day minimum. In addition to my daily fee, the cost includes airfare from Lehigh Valley Aiport (ABE) and lodgings. I'll also need local transportation (I don't drive rental cars). As for meals, I'm happy to feed myself, but I love having dinner with librarians and teachers.
Rates
My fee is $1,900 for a day at a school. Payment is due the day of the visit.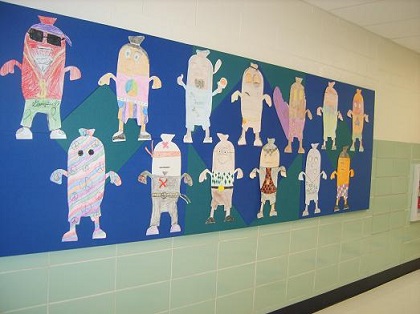 Planning Ahead
I don't have any particular time frame or restrictions for scheduling school visits. I've booked events two years in advance and gone to schools on two weeks notice.
Where I've Been
During the last few year I've been to schools in Seattle WA, Gainesville FL, Syracuse NY, Cheyenne WY, Midland TX, Waterloo WI, and all over PA, MD, OH, and NJ. I've also spoken at many state and national conferences. At last count, I've been to about forty states. To see my current travel plans, check out my calendar.
Book Signings
I'm always happy to sign books for the kids (and the teachers) during an author visit. This isn't mandatory, and doesn't have to be done in any formal fashion. Your local book store will probably be happy to get involved. If that isn't an option, I can put you in touch with a bookseller who can provide my books at a discount. The savings can either be passed along to the kids or used to raise funds. It's your choice. She can ship books anywhere in the country, and also provide order sheets for the students. You can also get some of my books directly from my publishers. I can provide contact information. Since I have several publishers, this can be a bit of work. (Yet one more reason to get parent volunteers involved with any author visit.)
If time permits, I prefer to sign face-to-face with the kids so I get a chance to chat with each of them. Again, all of this is flexible. If there are a lot of books to sign, I don't mind taking care of it at lunch time. (I'm happy to hang out with the teachers in the faculty lunch area while I'm doing this.)
Some schools use book sales as a creative way to help fund an author visit. (Many book stores will give schools a 20% discount.) Other schools pass the discount along to the students. Please feel free to check with me before ordering books if you have any questions about the age range or content of any of my titles.
Getting in Touch
For more information, contact visits.
---
FAQ
Q. Do you require a deposit?
A. No. I trust you.
Q. Can I record your presentation?
A. No. Photos are fine. And I'll be happy to let you record a video or audio interview or any informal interaction with the students.
Q. Do you require any paperwork to confirm the visit.
A. No. If you tell me I'm coming, that's good enough for me. I understand that some schools require paperwork of various densities. I'm happy to comply. (Okay, not really happy, but I'll cope.)
Q. Will you speak to our kindergarten or first grade?
A. I'll be happy to stop by the class rooms to say hi, or do a short assembly for the youngest students, but it would be best not to bring them to the assembly for the older students.
Q. Will you spend a little time with our special-ed class?
A. Absolutely.
Q. Can a student interview you for the school paper?
A. Sure. I'll spend my time there however you want. You know your kids and school better than I do. Beyond the group presentations, make whatever use of me provides the most value.
Q. Why is this page so ugly?
A. Art is not my strong point.
---
Some Tips for a Great School Author Visit
The more familiar the kids are with my work, the more enthusiastic they'll be about a visit. If possible, it would be good if they've done a project involving one of my books. I've been to schools where the kids have made board games, drawn posters, or written show tunes based on one of my books.
The kids should be able to write comfortably. If we're in an auditorium, or spread across the gym floor, they should bring some sort of writing surface or notebook.
Let everyone involved know I'm coming. (It's not a lot of fun for the librarian to suddenly discover I'm speaking in the library that morning when she'd already made other plans for the area.)
That's about it. There's really not much to do other than get me in the room with the kids. I really enjoy making author visits. Please feel free to contact me if you have any questions that haven't been answered here. If you prefer to communicate by voice rather than email, let me know and I'll send you my phone number.