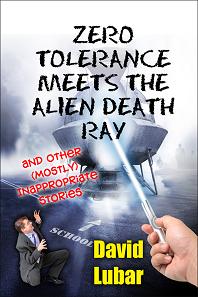 There's a place for bad behavior...
A boy gets an alien death ray from his uncle. A gamer gets hooked on casino gambling. A bully steals steroids from an enormous athlete. What could possibly go wrong? Once in a while, I'll write a story that contains an item, a scene, or an action that might be considered inappropriate for classroom reading. So that story can't go into one of my Weenies collections. But that doesn't mean it isn't a good story. I've gathered a selection of inappropriate stories, tossed in some other tales my fans might enjoy, and priced the whole thing as low as possible. Do the appropirate thing—get a copy for yourself, or for your favorite young reader.
Only $.99—yes 99 cents.
Get it for the NOOK at Barnes & Noble
Get if for the Kindle at Amazon.com
Get it in ePub, mobi, pdf, and other formats at Smashwords. com
Get it for your iPad or iPod at the iBooks store.